The key for your organization to thrive is to be cohesive, aligned & profitable at the same time.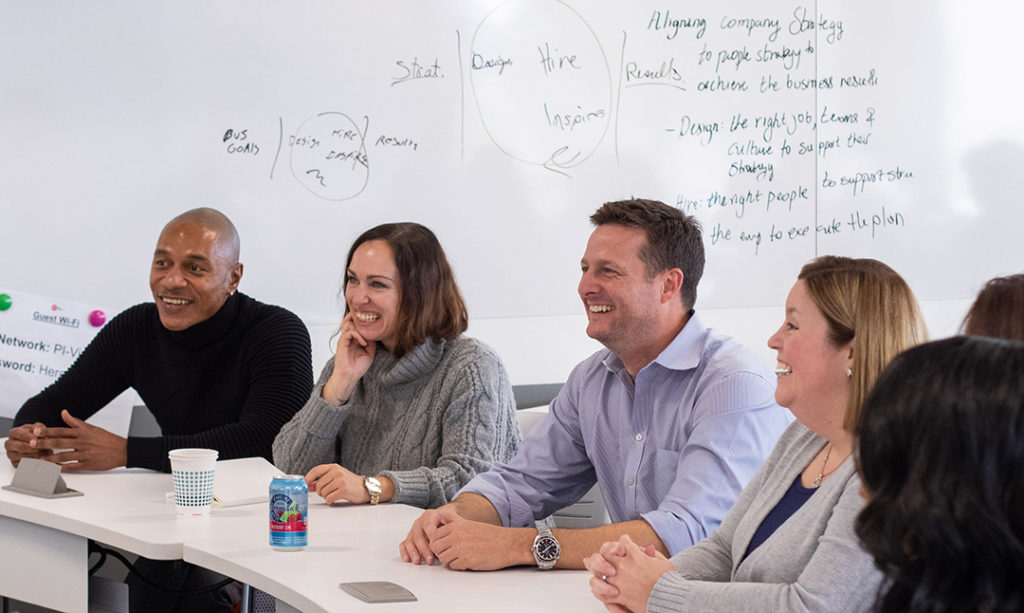 With so many changes constantly taking place, it's no wonder your organization struggles through the transitions. Your leaders struggle to connect purpose and profit through consolidations, technology changes, regulatory pressures, and workforce shortages… which creates tension between your mission and your very real need to keep a healthy bottom line.
At the end of the day, your people are pulled in so many different directions and are jumping through so many hoops that they're hungrier than ever for someone to LEAD them toward successfully fulfilling your mission while maintaining a profitable business.
That's where we can have such a profound impact on your leaders and teams. Our programs show the leaders in your organization how to cultivate a thriving, magnetic culture with engaged employees who are driven and aligned with your mission.
Most workshops can be presented as virtual or in person sessions.
Featured Workshops, Webinars and Sessions
1:1 Talent & Strategy Alignment Session
"It's fine. I'm fine. Everything's fine." Sound familiar? Setting the direction and inspiring followership while your people are burnt out and stressed isn't easy. But it's your job to make sure your teams perform despite all the COVID obstacles. So you put on your game face and solve problems as they arise. But what you really want is a high-functioning team that performs when the pressure's on. Then you can stop fighting fires and get back to strategy. Because that's how you soar.
See your team's strategic goals and its collective behavioral identity side-by-side. Have a team that's struggling with low trust, accountability, cohesion, or burnout? Book a 1:1 Talent Strategy Session to learn how you can transform any team in your organization. A talent optimization consultant will give you actionable recommendations, using science-based behavioral assessments and team analytics. After your custom consulting session, you'll have the clarity you need to get your team unstuck. And, this value-packed session takes just 90 minutes or less. During your 1:1 Talent Strategy Session, you'll:
Understand the team's collective behavioral strengths and blind spots
Uncover what's holding your team back
Get critical, data-backed recommendations to help the team hit their goals
Build a clear path forward to improve communication and accountability
Walk away with newfound confidence to execute your strategy
Things are about to change for the better. Book your 1:1 consulting session today. This session can be held virtually or in person.
Leading in Times of Change
Extraordinary social, economic and global challenges swirl around leaders facing the ambiguity of an uncertain future. Rapid growth, new leaders, competition, mergers and restructuring each bring new risks and challenges. Realigning business priorities, the workforce and likely both remain an acute reality for many, and the stakes are high. Powerful emotions are at play when your leadership is needed most. Through this workshop you will:
Gain understanding of your own leadership style, strengths and potential blind spots
Learn a framework for aligning your leadership team to your strategic priorities.
Identify actions to take for greater alignment of business and talent strategies
The Leading in Times of Change workshop can be conducted virtually or in person.
Building a Resilient Organization: What leaders need to do in challenging times to survive, stabilize and thrive again.
Every storm will pass. Yet it will be the leaders most agile and resilient that lead their organizations through each one. It's the work you do in the midst of the storm that will position your organization and its people to come through this, perhaps even stronger than before. This requires mobilizing people, making decisions despite uncertainty and keeping your own energy up to ride out each wave. This session will help leaders to:
Learn practices to remain resilient during difficult times.
Discover how to build resilient teams and people.
Avoid actions that may derail your business.
Identify ways to help your organization survive, stabilize and thrive again.
The High-Performance Series
Turn your team into a powerhouse. Drastically improve your team's performance. Build teams that trust each other, communicate, and hold each other accountable—so you maximize your bottom line. Use a proven framework to build accountable and cohesive teams. Introducing The High Performance Series, a two-part workshop series designed to help any team reach peak performance through expert guidance and first-of-its-kind people data. Understand different individual work styles and motivating needs.
Part 1: Discovering Your Team Type: No team is effective without trust and communication. With the help of an expert facilitator, this workshop helps you build a self-aware and trusting team. Establish an understanding of each team member's motivations and work style, and uncover your group's specific "Team Type." Through this catalyzing reveal, your team will become a unit, building lasting cohesion and collaboration habits. You'll also uncover the group's collective working style, strengths, and blind spots, and leave with a clear action plan to better work in harmony.
Part 2: Designing for Strategic Action: Many teams aren't a good fit for their objectives and don't even realize it. This workshop turns uncertain team performance around by mapping a group's natural strengths to its goals, exposing areas of misalignment and providing recommendations to address them. Attendees will learn how to "stretch" their skillset, so they can refocus their daily priorities to best serve the goals at hand. You'll also be given a clear action plan on how to deliver on the proposed objectives with renewed confidence.
Help your teams perform at their best, so you can get out of the weeds and focus on the strategy ahead. These workshops can be virtual or in person and take approximately 3 hours each. Both are customized to your team's style and their most important work goals. Ask about the best solution for your company's needs.
Foster Thriving Cultures
This program is designed to shed light on your organization's cultural strengths and help you develop a collective vision for what your culture should be. Your audience will:
Create the plan to bring your vision to life
Discover how to tie the vision to the business strategy.
Understand how to communicate the vision and mission and get buy-in from each employee so they're engaged in the process and all moving toward the same common goal.
These are examples of workshops designed to build more effective leaders and managers and more engaged cultures. Programs can be tailored to meet the specific needs of your organization and many can be designed to be conducted virtually.
Predictive Index Workshops:
These workshops are designed specifically for clients who are utilizing the powerful insights of The Predictive Index to hire the right people, inspire them to engage and produce and to strengthen their leaders and managers. Learn more about Predictive Index and the power of Talent Optimization. Take a free PI Assessment using the link on the side bar of this web page and check it out for yourself. Ask about Virtual Instructor Led Programs via the web as alternatives to in person workshops.
Driving Results with Talent (two-day workshop or multiple virtual sessions)
In this program participants will cover the four aptitudes of talent optimization, learn how to utilize talent data insights to understand what drives employees, and apply The Predictive Index's data-driven hiring approach to build high-performing teams and a positive culture.
This program provides a deep understanding of the Predictive Index (PI) and Talent Optimization. Participants learn how to utilize talent data insights to understand what drives employees and how to apply PI's data-driven approach to hire the right people, build high-performing teams and foster a thriving culture. In our client group sessions, you will use actual PI reports from your leaders to discuss application and insights while you learn more about how to get the best from PI to propel your business and culture forward.
Managing People to Perform (one-day workshop or multiple virtual sessions)
This intensive training looks at PI first through the lens of self-awareness (what does the PI say about me?), then focuses outward (what does the PI say about my team?), giving managers tools to adapt to the individuals they work with to increase engagement and achieve results.
Contact us to create the culture & leadership your organization needs to thrive. Call (516) 637-6095 or e-mail drivenburgh@strategic-imperatives.com.
Looking for more?
Access our downloadable resources to find out more information designed to help you thrive in the new world of work.